We all hate when several devices are consuming the internet without our control. However, we can solve this by following the actionable steps on how to control devices connected to your WiFi infographic below. You will be able to block or unblock any unknown or unwanted devices the are connected to your Wi-Fi connection.
We all want our devices to get the best connection. That is why we are investing in the best DOCSIS 3.1 modem or DOCSIS 3.0 modem together with the best router for our home or office. In other homes, most people also are investing in the best mesh systems or the best Wi-Fi extender to ensure that the whole home or devices are covered with high-speed internet.
As we seek the best connection, you may find that some devices are hogging your internet. These devices may have been connected legally or illegally to your network.
In the infographic, we have described how to control the devices connected to your Wi-Fi connection. This will happen by blocking and unblocking devices from your Wi-Fi. The following are the steps that you can follow to remove an unknown device from your Wi-Fi connection and how to unblock some other devices:
How to block or unblock devices connected to your Wi-Fi network
On your browser open your router login page
To block or unblock You can do this by logging into your router's graphical user interface on your computer. To do this, ensure that you connect the computer to your Wi-Fi network. After opening your browser, enter your router's IP address.
The default IP address is 192.168.1.1 for most routers or modem router combos. However, you can check your default IP address from the router's details or manufacturer's page. For example, the login details for Arris routers can have 192.168.1.254 (in 14% of Arris routers) and 192.168.100.1 (14%) as the IP address for some routers.
Once you put in the IP address on the URL bar, it will take you to your router's login page.
Sign in to your router login page
Using the username and password provided on the sticker on your router, login into the router's login page. The default username is "admin" and the password is "password" for most routers. Confirm if you changed the default login username and password when you set up the router.
After logging into the router admin page, you can change the settings, configuration, and connection management.
Access the router's advanced settings
Once you log in to the administrator settings panel of the router, navigate to the router's advanced settings. On the advanced settings, then select security followed by access control. This will give an option for all the connected devices to your network.
Allow or block the devices on your network
Once you get to the access control area of the administrator settings panel, you can check and block or unblock any device from your network. Here you can be able to easily control the devices connected to your network from time to time.
After you have blocked the unwanted devices or unblocked the devices that are available in your network, you can set up Guest Wi-Fi on your network to ensure that visitors are not connected to the primary Wi-Fi network.
How do I kick someone off my WiFi without changing the password?
We all know that changing the password is one of the easiest and effective ways to manage your internet connection users. However, it may not always be the solution.
You may want to remove devices and still retain the password because changing the password in every device is tasking. In addition, the intruder may hack back into your network or obtain the other password!
Therefore, you can employ the following ways to manage users on your connection without changing the password:
1. Using Wireless MAC Address filter to kick someone off my WiFi without changing the password
Wireless networks are a great way to share your internet connection with multiple devices at once, but they can be troublesome if you don't know how to manage them.
Many people have trouble managing their home wireless network because it's too difficult or time-consuming. They either forget to add new users or give the same password to everyone.
These mistakes leave their network vulnerable and open to intruders. This is a security risk, as you are allowing people to use your internet connection for free and they have no accountability.
There is a simple solution that will make managing your Wi-Fi easier than ever before! With MAC Address filtering, you can block unauthorized access by restricting access based on the device's unique MAC address number (a 12 digit string of letters and numbers).
You only need this number when adding each device in order for its access rights to be changed automatically without having to change any passwords manually every time someone new wants on your network.
Setting Wireless MAC Address filter
If you're looking for an easy way out of all the hassle that comes with sharing a wireless router, then you need to change the wireless MAC address settings using the following steps:
The first step is to use your router's admin username and password to login into the control panel. If you have not changed the admin login details, they will be typed at the back of your router.
Then proceed to the Wireless or WLAN section on your router's admin control panel dashboard.
Under this section, you should be able to see MAC filtering.
Then, if the MAC filtering is 'Disabled', change it to 'Enabled' like in the photo of the Linksys control panel below:
After enabling the MAC filtering, you can then add devices to your MAC address list as shown above. Under this section, you can decide if you want to block or unblock a device from your network.
This is because some routers will give you the ability to select or unselect connected devices that you want filtered by your MAC filtering. You can use the IP address to easily identify the devices on your network as shown below: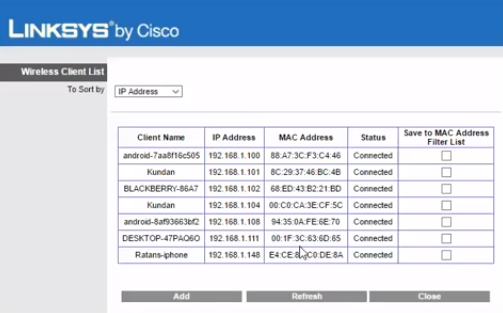 2. Direct Blacklist of devices from your network
You want to restrict access to your WiFi network for the following reasons.
There's a lot of people who have been banned from using your WiFi and you don't want them coming back, or maybe it's some family members that you really need to keep away but they know the password. Whatever the case may be, there are many compelling reasons why you would want to block someone from accessing your Wi-Fi network.
The Direct Blacklist is an easy way for users to add devices directly into their router blacklist without changing any settings or even having direct access (via browser) to their router's web interface. Simply click "Add Device To Blacklist" button under each device and that device will now be blocked from accessing your wireless network.
Adding their devices to a Blacklist on your router is one of the best solutions as it doesn't require changing any passwords or installing any software on their computers/devices. All you need is administrative rights and 2 minutes of time! There are many routers that allow users to add devices to the block list without changing passwords or install anything on a computer/device (for example D-Link, TP-Link, Netgear, etc). This method does not work for all routers unfortunately.
3. Using VPN services to remove/ block unwanted devices from your network
If you don't feel like either using the MAC filtering or blacklist, you can go for a VPN service. If you use some VPN service like NordVPN (I do) or Express VPN among others, then this will work with almost any router! It even works with iPhones and Androids phones too which makes it great for parents who would like to
A NordVPN router or ExpressVPN router will give you the privacy that you need. You can be sure that it is easy to use and is very effective.
4. Using Mobile Applications to kick someone off my WiFi without changing the password
In addition to the three above, you can employ a mobile app to block and unblock Devices Connected to Wi-Fi. There are several mobile applications that can help you manage the connections. In our case, we recommend getting Fing.
Fing will work with both Android and iOS devices to help you manage your connections. It will enable you to:
Scan their WiFi network for unauthorized devices
Blacklist these devices and prevent them from accessing the internet via your router.
To find out what is connected to your WiFi network, including the device's name/manufacturer and its MAC address. You can check IP address, MAC address and vendor name of a device in real time
Block or unblock any device on your network at any time. And to create a list of devices you want to block
To block and unblock devices remotely
Block or allow any device from connecting to the WIFI network through a simple interface, with no complicated codes.
Locate your device by using the "Where is my phone?" feature. You can also set up an alert when the location changes.
Get security alerts of intruders and other connections either on email or to the phone
Why should you control the devices connected to your Wi-Fi
There are several reasons why you should control the devices connected to your Wi-Fi network. The main ones are as follows:
Get better connection for your devices
Most of the routers available in the market today have a certain number of devices that can access the internet simultaneously from your router. This makes it important to block and unblock devices connected to your Wi-Fi depending on the user.
You don't want your neighbor's devices to be the ones using your internet while you can't enjoy your online activities like gaming or 4K streaming.
In addition, there is a limit on the maximum bandwidth of your router. This means the more the number of devices the less the bandwidth you will have for your devices. This will mean experiencing lags in some activities such as gaming or 4K streaming.
Safety and security of your network
Sometimes you may get an unwanted or unknown device connected to your network. The devices may pose a security threat to your network. This is because they can access records such as banking details or private information from your network causing security threats.
Therefore, it is important to block or unblock unknown or unwanted devices connected to your network.
Conclusion
Since we all want the best internet connection for our devices, it is good to block and unblock any unwanted devices connected to your Wi-Fi network. This means you have to follow the infographic to learn how to control the devices connected to your Wi-Fi network.
After following the steps above, you will be able to enjoy gaming on your gaming console, streaming on your streaming device, while your devices indoors or outdoors will enjoy fast internet.